Barcelona
Located on the Mediterranean coast, Barcelona is one of the world's most popular tourist destinations. This cosmopolitan city is also one of Spain's most important economic, cultural and commercial hubs, attracting both leisure and business tourism from all over the globe. Every year, thousands of tourists visit Barcelona to discover this stunning city as well as attending numerous conferences, committees and other types of meetings.
If you like this travel guide, don't forget to add it to your Favorites.
A city with a lot to offer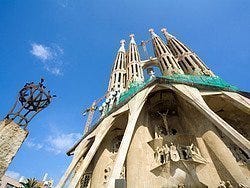 Barcelona and its symbol la Sagrada Familia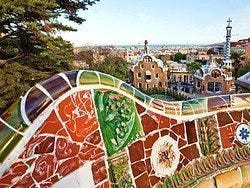 Park Güell, one of Gaudí's masterpieces
Barcelona is brimming with culture. It has numerous renowned museums like the Fundació Joan Miró or the Museu Picasso, but you'll appreciate the city's love for art by simply strolling through it's charming center.
The well-known Sagrada Família or the surprising Park Güell are just two of the many architectural marvels designed by Antoni Gaudí, an extremely famous Spanish Catalan Modernist architect.
But Barcelona offers a lot more than just art, it also has vast and sandy beaches and excellent restaurants with delicious traditional Catalan cuisine.
Book your accommodation in advance!
If you still don't have accommodation booked, we recommend you visit our search engine, where you'll find all types of hotels, hostels and apartments with the best rates guaranteed (with up to 75% discount). Besides, in most cases, you'll only have to pay once you get to your destination and you can cancel the booking just one day in advance.
Your Barcelona Guide
Civitatis' Barcelona Guide has been written by travellers who have shared their personal experiences, so that other travellers can make the most of their stay in this fascinating city, as well as saving money and how to take advantage of every minute.
Our guide reveals all of Barcelona's many charms, including its top landmarks, its monuments, architecture and history. The guide also includes useful and up to date information on the city's public transport, the region's traditional cuisine and the best areas to stay.
The information provided in this guide has been updated in February 2017. If you find a mistake or would like to make a suggestion, please do not hesitate to contact us.