The Mercat de la Boqueria (Boqueria Market) is officially known as Mercat de San Josep. It is a municipal market located on Las Ramblas in Barcelona.
This charming market is an ideal place to buy fruit and vegetables, although in recent years it has become a popular tourist attraction.
The colorful Boqueria Market is a maze of over 2,500 square meters along which are located more than 300 stalls offering all kinds of products typical of Barcelona's cuisine. You'll find all types of products, including eggs, all kinds of vegetables, cold cuts, sweets, fruit, juice…The selection of goods is so vast, it's difficult to imagine a product not sold in this emblematic market.
History
The current Boqueria Market sits on the site where the Convent of San José was founded in 1586. With the passing of years, La Rambla became very popular among Barcelona's inhabitants and when the Monastery was destroyed by a fire, the market was transferred to this location.
A definite must
The Mercat de la Boqueria is one of the most iconic landmarks in Barcelona. It's a definite must both for locals and travelers. The market is full of life at all hours, packed with people, colors, smells, and interesting things to see.
Some of the stands offer delicious daily special menus with fresh fruit and vegetables.
If you want to take a tour to discover the best of Barcelona's gastronomy by visiting the Boqueria Market and the Santa Caterina Market, you can make your reservation via this link: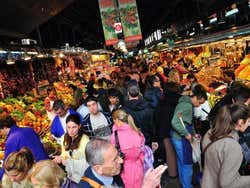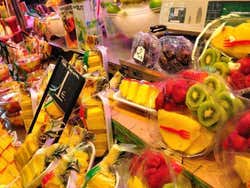 Schedule
Monday – Saturday: 8 am – 8:30 pm.
Transport
Metro: Liceu, line 3.