Barcelona Zoo has more than 2,000 animals. It became famous internationally for housing the only known albino gorilla called "Copito de Nieve" (Snowflake). Sadly, Copito de Nieve died in 2003.
The Zoo in Barcelona was inaugurated in 1892 in the Parc de la Ciutadella thanks to a donation of a private animal collection. Since then, Barcelona Zoo has grown year after year and now has over 8,000 animals of 400 species of wildlife animals.
The Animals in the Zoo
Visitors will come across all types of animals in the Zoo including zebras, elephants, bears, lions, panthers, giraffes, buffalos, kangaroos, panthers, vultures, ostriches, hippopotamuses, among many others.
These are some of the most popular areas in the zoo:
The Farm: It is one of the most popular areas for children. Visitors will see cows, ponies, pigs, horses, sheep, goats, and donkeys.
Titi monkey gallery: The Titi monkey gallery currently houses seven species of the smallest primates that exist, called titi monkeys from South America.
Small Primates Gallery: Extremely similar to humans, this is one of the most visited areas.
Palmeral: A charming walk along various aviaries packed with beautiful and colorful cockatoos, macaws, and parrots.
Reptile House: This part of the Zoo houses a great collection of amphibians and reptiles, ranging from iguanas to alligators, and giant snakes.
Aquarama: Visitors can enjoy tons of exhibitions, including a dolphin show, in this enormous aquarium.
A must if you travel with children
Barcelona Zoo is very enjoyable and with over 300 species, is one of the most important zoos in Europe. It's a definite must if you're traveling with children or if you like animals. Click here to purchase tickets to the Zoo.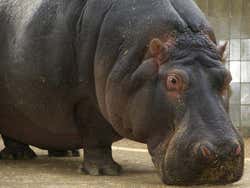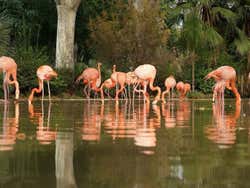 Schedule
1 January – 18 March: 10 am to 5:30 pm.
19 March - 15 May: 10 am to 7 pm.
16 May – 15 September: 10 am – 8 pm.
16 September – 29 October: 10 am – 7 pm.
30 October – 31 December: 10 am - 5:30 pm.
Price
Adults: € 21.40 (US$ 23.10)
Children 3 -12: € 12.95 (US$ 14)
Over 65s: € 10.50 (US$ 11.40)
Children under 3: Free.
Barcelona Zoo Tickets € 21.40 (US$ 23.10)
Transport
Metro: Ciutadella / Vila Olímpica, line 4.
Tram: Ciutadella / Vila Olímpica, line 4.
Buses: D20, H14, H16, V21 and V27.