The Torre de Collserola is an important telecommunications centre that was built to cover the needs of the 1992 Summer Olympics in Barcelona.
It was built on Mount Tibidabo and designed by the renowned architect Norman Foster. The centre is a large tower that stands 945 Ft (288 m) tall, making it the highest structure in the city with 13 floors.
The Torre de Collserola is the most important telecommunications company in Barcelona, transmitting 100% of the city's television channels and 95% of its broadcasting radios.
The Observation Deck
The tower has an observation deck on the tenth floor that offers spectacular panoramic views of the city and its surroundings. If it is a very clear day, you can see the city up to 70 km away.
After climbing up in the fast-panoramic elevator, you will get to a 360° observation deck that stands 115 meters tall. The deck contains several screens with information on where the city's main attractions are, so that you can easily spot them.   
Impressive Views, but…
Although the Torre de Collserola offers fantastic 360° views of Barcelona, the observation deck is covered and moreover, the "Torre" is not very accessible. If you would like to see Barcelona from above, we recommend other viewpoints on Mount Tibidabo, such as the Talaia Tower (Tibidabo Amusement Park) or the observation deck at the top of the Temple of the Sacred Heart of Jesus.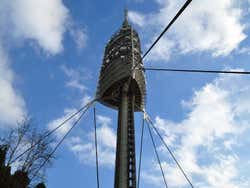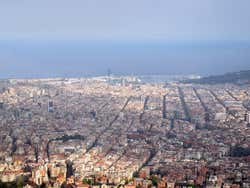 Schedule
It varies depending on the dates. Generally, it opens from noon until 5 pm or 8 pm.
Price
Adults: € 5.60 (US$ 6).
Students: € 3.90 (US$ 4.20).
Children aged between 4 and 14 years old and seniors over 60 years old: € 3.30 (US$ 3.50).
Children less than 3 years old: free entry.
Transport
Funicular + bus 111.
By foot from the Tibidabo