Museu d'Història de Catalunya
The Museu d'Història de Catalunya (MHC) offers its visitors a journey back in time through the history of Catalonia from the prehistory up until the end of the twentieth century, explaining the political, social, economical and cultural evolution of Catalonia. 
The Museu d'història de Catalunya (Museum of the History of Catalonia) in Barcelona reflects the history of Catalonia up to the end of the twentieth century. It displays various aspects, such as the political, social, economic and cultural evolution of this autonomous region.
The museum is housed in the Palau del Mar. The structure was initially built as a warehouse at the end of the nineteenth century and is the only building which wasn't demolished in the old port in Barcelona.
Exhibitions
The Museu features an extensive collection of objects, settings and historical recreations that reflect the region's history in a simple and straightforward way.
Visitors can explore Catalonia since the Paleolithic period until the twentieth century, and they can even take part in its history by for example, grinding wheat like the Iberians used to, try Medieval armor or climb on a tram that used to run in the city during the 1920's.
A charming museum
The Museum of History of Catalonia is ideal for those that want to discover the history of Barcelona and its autonomous region. It includes lots of interactive attractions, making it into a very visual and enjoyable.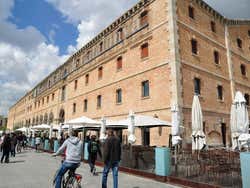 Schedule
Tuesday – Saturday: from 10 am – 7 pm.
Wednesday: from 10 am – 8 pm.
Sunday and bank holidays: 10 am – 2:30 pm.
Mondays: closed
 
Price
Adults: € 6 (US$ 6.50)
Youth under 25 with Carné Joven Pass and Seniors (65 years old and above): € 4 (US$ 4.40)
Children (less than 16 years old): free entrance
There is free entrance for everyone on the first Sunday of every month!