Discover everything about the Barcelona Metro, one of the most practical means of transport to discover the capital of Catalonia. Find out about its lines, timetables and fares.
The Barcelona Metro is the fastest and cheapest way to get around the city. The vast network is made up of 180 stations and 12 lines that cover 90 miles (146 km) and run mostly in the city center but also in the suburbs, with stops in the city's top attractions. 
Curious facts about the Metro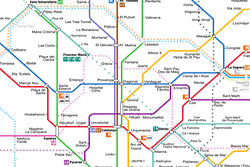 Barcelona Transport Map
The subway in Barcelona was founded in 1920 and in just four years the first section was inaugurated. The first stretch connected Plaça Catalunya with Plaça de Lesseps.
Since then, the Barcelona Metro has continued to grow throughout the years and is to this day 90 miles (146 km) long. It is currently run by two different operators.
The Barcelona Metro is slightly different compared to other subway systems since it has three disparate types of tracks, all of which have a specific width. The difference is unnoticeable for the Barcelona Metro customers.
In December 2009, the Barcelona Metro became the first electrified railway network in Spain with automatic trains on all its lines.
Barcelona Metro Operating Hours
The metro in Barcelona operates from 5 am to midnight from Monday to Thursday.
On Friday the subway opens until 2 am and on Saturday and other public holidays, the metro is open 24 hours a day.
Prices
There are various types of public transport tickets and travel cards, depending on the time you spend in Barcelona and how often you plan to use the city's transportation system. In the following link, you will find useful information on the several types of tickets, so you can pick your card correctly depending on your needs: