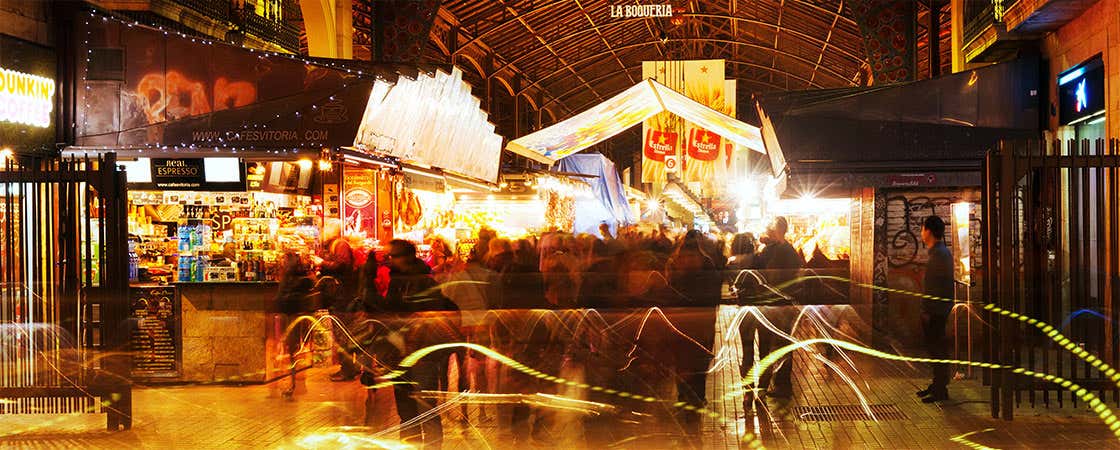 Barcelona is one of the top ten global fashion capitals in the world. It is a cosmopolitan city packed with divergent shops, boutiques, markets and shopping centers that offer souvenirs and specialized products from Catalonia, perfect for all those that love fashion and shopping.
You can buy quality products with a Spanish regulatory classification system that guarantees its excellence, like wines, liqueurs, cold cuts, honey and sweets. You'll find shops that are specialized in each of these products and in our opinion make great presents. 
Famous Shopping Streets
Passeig de Gràcia: The "Paseo de Gracia" houses numerous boutiques and high-end stores and is sometimes compared to the Champs Élysées in Paris and New York's Fifth Avenue.
Portal de l'Angel: This pleasant pedestrian street is one of the most popular avenues in Barcelona and one of the most famous shopping boulevards. It is part of Plaça Catalunya.
Carrer de la Princesa and Carrer de l'Argenteria: Both streets are located in the Born neighborhood. The Carrer de la Princesa and Carrer de l'Argenteria house trendy fashion boutiques and exclusive shops, an ideal place to find great and original presents for family and friends.
Carrer del Tallers: Situated very near La Rambla, in El Raval neighborhood, this narrow street is unique and offers completely different shops from the rest of Barcelona's shopping streets.
Shopping malls
For those that want to do a lot of shopping and don't have much time, we suggest heading to one of Barcelona's shopping malls and department stores, where you'll find everything you might need.
These are some of the most popular shopping malls:
Maremagnum Shopping Center: Located at the end of La Rambla, this modern shopping center is by the sea and offers its visitors all kinds of clothing stores, a cinema and a variety of restaurants.
Las Arenas Shopping Mall: Las Arenas sits in the old bullring next to Plaça d'Espanya. This shopping center is housed in an avant-garde building that combines the past with the present, making it one of the most emblematic buildings in the city.
Diagonal Mar Shopping Mall: Located at the end of the Avenida Diagonal, it is very close to the sea side. Diagonal Mar not only has numerous stores, it also has a movie theatre and various restaurants.
La Maquinista Shopping Centre: This open-air shopping mall is designed as if it were a small city and is very enjoyable to wander around, although it is not very close to the city center.
El Triangle Shopping Centre: Located in Plaça de Catalunya, this small shopping centre is very practical since it is very centric.
Markets
Boquería Market (Mercat de la Boquería): The most popular market in Barcelona is an authentic paradise for the senses. It is one of the best attractions in the city.
Santa Caterina Market (Mercat Santa Caterina): Santa Caterina is very close to the Cathedral. This renovated market has become the new gastronomic temple in Barcelona.
Mercat de la Concepció: This elegant Modernist market is located in L'Eixample neighborhood. It has recently been renovated and is now very pleasant and well organized.
Sant Antoni Market (Mercat de Sant Antoni): Built in 1882, this Modernist steel frame structure is one of the largest markets in the city. You'll find food stands, old books and is the meeting point for all types of collectors.
Opening times
Most stores in Barcelona open from Monday to Saturday, from 9 am to 1:30 pm and from 5 pm to 8 pm, although some smaller shops close Saturday afternoons.
The shopping malls and department stores are open from Monday to Saturday, from 10 am to 10 pm. However, the Maremagnum shopping center opens every day of the year.
Sales Tax Refunds
Tourists who are from outside the European Union can recover the sales tax on certain products bought in Barcelona. This is known as TAX FREE and you can apply it to purchases of any value
Quick and easy, skipping the long lines at the airport, the B.free application allows you to do all this from your mobile phone, saving receipts, stamping your TAX FREE, and getting your money back. And if you use the following link, you can register with the application and enjoy an additional 5% discount with the B.free! network.