Buses in Barcelona
Barcelona runs more than 1,000 buses across the city with over 80 lines. The bus fleet is run by TMB, the main public transport operator in Barcelona. Buses in the capital of Catalonia drive past the top tourist attractions and connect the city center with all its suburbs and nearby towns.
Operating hours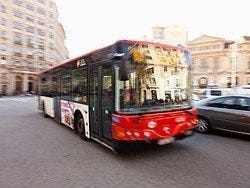 Bus in Barcelona
In Barcelona, the running times of the bus network system depend on the various lines. However, most of them start their service between 4:25 am and 5 am and run until 11 pm.
If you need information on the times of a particular line, you can check out the official TMB website:
Night Buses
The city has a night bus service called Nit Bus. It covers most of the city center and the metropolitan area.
The night buses run from 10:40 pm to 6 am approximately. All the buses leave from Plaça Catalunya. 
Prices
TMB offers locals and visitors various types of transport tickets and travel cards depending on the need of each individual. You'll find useful information on the tickets and travel passes in the following article: