The Golondrinas are tourist boats that cruise along the charming coastline of Barcelona. A different way to explore Barcelona. 
Las Golondrinas is a passenger boat company that organizes short tours across Barcelona's harbour and coastline, drawing a beautiful profile of Barcelona from the Mediterranean Sea.
The first Golondrina cruises took sail in 1888 for the Barcelona's first Universal Exhibition. In the late nineteenth century, the boats had steam engines and could only carry twenty passengers.
Where to find Las Golondrinas?
Las Golondrinas pleasure boats depart from the Portal de la Pau, which is located next to the Columbus Monument. You can purchase the tickets directly there or ask them any questions you might have.   
Type of cruises
Barcelona Port (40 minutes-long): On board a traditional Golondrina passenger boat, you will be taken on a forty-minute trip along Barcelona's port until you get to the breakwater. Visitors will get great views of the World Trade Center, the Porta de Europa bridge, the International Maritime Station, the Llevant and Ponent piers, the Nova Bocana, the Fisherman's Quarter and the Torre del Rellotge (Clock Tower).  
Barcelona Mar (1h30' long): Sail during one hour and a half on board a modern catamaran all along Barcelona's coastline until you get to the Forum building. Most of the boats are glass bottom, so you'll be able to observe the underwater and its engine room. 
If for meteorological reasons, the boats cannot do either boat tours, the company will organize another tour along the city's coast.
Prices
Types of boat trips
Adults
Students and seniors
Children 4 - 10 years old
Barcelona Port 40'
€ 7.70 (

US$

7.50)
€ 7.70 (

US$

7.50)
€ 2.80 (

US$

2.70)
Barcelona Mar 1h30'
€ 15.20 (

US$

14.90)
€ 12.40 (

US$

12.20)
€ 5.50 (

US$

5.40)
Schedules
The departure times of the Golondrina boats vary depending on the time of year and the route you wish to book. Keep in mind that schedules might suffer changes due to meteorological reasons. Check out La Golondrina's official website for information on all the departures: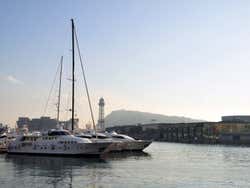 Transport
Metro: Drassanes, line 3.
Buses: 14, 20, 21, 36, 57, 59, 64, 91, 120 and 15.