Museu d'idees i invents de Barcelona (MIBA)
Situated in the center of Barcelona, the Museu d'idees i invents de Barcelona – MIBA (In English: Museum of Ideas and Inventions) is a museum dedicated to the world of ideas, creativity and inventions.
It was created to motivate its visitors to put their ideas into action and to open their minds to new possibilities.
Exhibitions
The museum contains various inventions that provoke visitors to reflect and ponder. The museum features simple ideas, but that are very imaginative. Some of the designs are very practical, while others are completely absurd, but both are very curious.
Each apparatus is accompanied by a small sign board with their individual explanation, which visitors have to read to understand what the creativities are designed for.
Leaves a lot to be desired
In our opinion, the Museu d'idees i invents leaves a lot to be desired. The idea behind the museum is unique and interesting, but sadly the museum contains numerous creations that are slightly senseless and it is a bit tiring having to read all the explanations to understand what each apparatus is. These types of museums, like Science Museums, should be a lot more interactive.
The museum's store includes some of the most curious and interesting inventions which are housed in the museum, so if you don't have enough time to see the entire museum, we suggest you pass by the shop.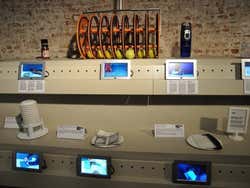 Schedule
Tuesday – Friday: 10 am – 2 pm and from 4 pm – 7 pm.
Saturdays: 10 am – 8 pm.
Sundays and public holidays: 10 am – 2 pm.
Mondays: closed
Price
Adults: € 8 (US$ 8.70)
Children (aged 4 – 12): € 6 (US$ 6.50)
Students and seniors: € 6 (US$ 6.50)
Children (aged less than 4): free entry.