Museu Picasso in Barcelona
Visit a collection of over 3,500 works of art by Picasso, the world-famous artists from Malaga, at the Museo Picasso of Barcelona. It houses one of the largest collections by Picasso in the world. 
Barcelona's Museu Picasso (Picasso Museum) features over 3,500 works of art by Pablo Picasso, one of the most influential artists of the twentieth century. It houses the artist's largest collection and focuses chiefly on Picasso's early work. The museum is a reference frame for the artist's early works.
Picasso's idea
Picasso spent his formative years in Barcelona and the city in some respects became his muse, which explains why he suggested that the museum be opened in Barcelona and not in Malaga, where the painter was born. The museum was founded in 1963 by Picasso's good friend Jaume Sabartés who donated numerous paintings by the artist.
Exhibitions
The museum is housed in five Catalan Gothic-styled palaces in which Picasso's work is hung in chronological order. The mansions have been practically completely renovated, but there are still some areas that have not been altered and visitors can get an idea of how the wealthiest families of Barcelona lived during the nineteenth century.
Visitors will be able to enjoy an impressive collection of the painter's work, including "Man in a Beret", "Portrait of Aunt Pepa", "Science and Charity", "The Divan", "Woman with Bonnet", "The Hug", or the particular version of "Las Meninas".
One of the best museums in Barcelona
The Museu Picasso is one of Barcelona's major museums (if not the most) and is extremely worthwhile visiting.
If you are planning on visiting other museums in Barcelona, we recommend you purchase the Articket Barcelona, since this tourist pass includes important discounts and priority access to most museums. The priority access will come in hand in certain museums like the Museu Picasso, where there are always long lines of people.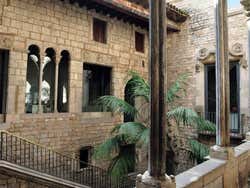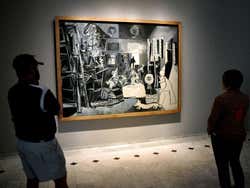 Schedule
Tuesday to Sunday: 10 am – 8 pm
Mondays: closed
Price
General Entry
Adults: € 12 (US$ 12.90)
Youth (18 -25) and Seniors (over 65) with the Pink Card: € 7 (US$ 7.50)
Children (under 16 years old): free entrance
First Sunday of every month: free entrance
Thursday from 6 pm: free entrance
Temporary Expositions:
Adults: € 6.50 (US$ 7)
Reduced Tariff: € 4.50 (US$ 4.80)
Transport
Metro: Arc de Triomf, line 1; Liceu, line 3; Jaume I, line 4.
Buses: lines 39, 51, 45, 120, V15, V17, H14.