Egyptian Museum in Barcelona
Experience ancient Egypt by visiting Barcelona's Egyptian Museum (Museu Egipci),with one of the most complete collections in Europe. 
The Museu Egipci (Egyptian Museum) in Barcelona is a cultural institution with educational programmes that aims to bring its visitors closer to the life, society and customs of one of the oldest and richest civilizations in the world.
Exhibitions
The Egyptian Museum of Barcelona has an extensive private collection with over 1,000 objects that reflect various themes to offer its visitors a broad concept of what the Pharaonic culture was and how the inhabitants lived.
The Museum measures 21,527 Ft² (2,000 m²) and is divided into ten different areas all with a specific theme that reflect the various aspects of the Egyptian civilization, including the citizens' daily life and the figure of the pharaoh, the mummification process and the cult to several gods.
Worthwhile
Although it isn't as large as other museums in the city, the Museu Egipci de Barcelona features excellent exhibitions, both temporary and permanent. Visitors who are interested in ancient Egypt will find this museum very entertaining and instructive.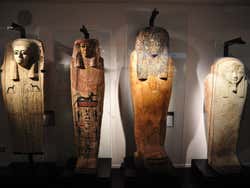 Schedule
Winter
Monday – Friday: 10 am – 2 pm and from 4 pm – 7:30 pm
Saturday: 10 am – 3 pm and from 4 pm – 7:30 pm
Sunday: 10 am – 2 pm
Summer
Monday – Saturday: 10 am – 8 pm.
Sunday: 10 am – 2 pm.
Price
Adults: € 12 (US$ 12.90)
Students, youth from 13-18, and seniors over 65: € 8.50 (US$ 9.10)
Children (between 6 and 12 years old): € 5 (US$ 5.40)
Barcelona Card: free entry.
Transport
Metro: Passeig de Gràcia, lines 2, 3 and 4; Plaça Catalunya, line 1; Diagonal, line 5.
Bus: lines 7, 16, 17, 20, 22, 24, 28, 39, 43, 44, 45 and 47.