Best Beaches in Barcelona
Barcelona is home to several beaches of white sand and crystal waters, all of which offer restaurants, bars, volleyball courts, and all kinds of services.
Until the end of the twentieth century, the beaches in Barcelona were not very appealing. It was only in the 90's that the various beaches were transformed, cleaning the water and the sand to make them more attractive for locals and tourists to take a dip.
Although Barcelona is not considered to be a beach holiday destination, millions of people go to the city's numerous beaches to sunbathe and swim in the Mediterranean Sea every year.
A promenade runs along all the city's coastline and crosses every beach, from LLevant (northern side of the city) to Sant Sebastià (southern part of Barcelona), where the renowned Hotel W is.
All the beaches in Barcelona are well connected, maintained and equipped with all the services one would imagine a beach to have. The closest to the city center are La Barceloneta, Sant Miquel and Sant Sebastià.
Beaches in Barcelona
Given that all the beaches in Barcelona are very similar, we have ranked them based on their popularity, in other words, places to have fun for some and massification for others.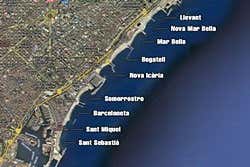 Map of the beaches in Barcelona
Other beaches near Barcelona
As well as the beaches in Barcelona, Catalunya's coastline has numerous beaches, one after another. To the south of Barcelona there are famous beaches like Sitges, Vilanova and Calafell. To the north of Barcelona, you will find Blanes Beach, which is where Costa Brava starts.
If you want to go to these beaches, you can either go by car (you can hire one in this link) or you can also go by train.