Casa Milá, known by most as La Pedrera for its unusual façade, is a surprising modernist building designed by Gaudí between 1906 and 1912. 
Casa Milà, which is known as La Pedrera due to its stony appearance, is a surprising modernist building designed between 1906 and 1912 by Gaudí, a famous Spanish-Catalan architect. This striking building sits in Passeig de Gràcia and reflects the architect's singular and distinctive style. During the same period, he worked on other projects throughout the city.  
Discovering La Pedrera
During the tour, visitors will be shown the main floor, where the Milá family used to reside. It's now a large open space for exhibitions, but it still contains some of Gaudí's unique and curious elements.
A little later on in the tour, you'll visit an apartment that recreates a typical beginning of the twentieth-century upper-class dwelling in Barcelona.
Some of Gaudí's designs, models, plans, photographs, and videos are located in the building's attic.
Casa Milà's most fascinating area is its rooftop. In this unusual space, Gaudí has created fascinating shapes and volumes, all with important symbolism. In this original rooftop, the chimneys are transformed into frozen warriors.
The rooftop of Casa Milà also offers impressive views over the center of Barcelona, although it is difficult to keep your eyes away from the silent army of warriors.
The best part: the rooftop
Like other structures by Gaudí, La Pedrera is a surprising and unusual building that will captivate you, especially when you visit its rooftop. However, although it's one of the artist's greatest designs, if you're in Barcelona for a short stay and have to choose between the architect's masterpieces, we would recommend visiting Palau Güell and Casa Batlló before La Pedrera.
Tickets
To avoid the long lines, you can purchase the tickets in advance on La Pedrera's official website: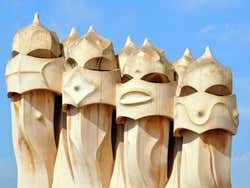 Schedule
Every day from 9 am to 8:30 pm
-These dates may vary-
Price
Adults: € 25 (US$ 26.80)
Students: € 19 (US$ 20.30)
Children (between 7 and 12 years old): € 12.50 (US$ 13.40)
Children (less than 6 years old): free entry.
Casa Milà Skip the Line Tickets € 25 (US$ 26.80)
Transport
Buses: 7, 16, 17, 22, 24, 28 and V17.
Metro: Diagonal, lines 3 and 5.