PortAventura World
PortAventura World is the most visited theme park in Spain. Every year it welcomes nearly 4 million visitors. It was opened to the public in 1995 and is located between Vilaseca and Salou, approximately 62 miles (100 km) from Barcelona's city center.
The complex also houses several hotels, a water park, a golf course, a beach club and a convention center.
Rides and various areas
The Amusement Park is divided into six themed areas:
Mediterrània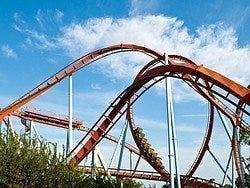 Dragon Khan, best roller coaster in PortAventura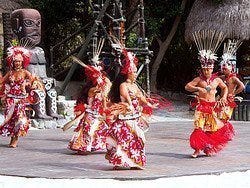 Polynesian dancers in PortAventura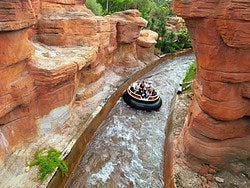 Grand Canyon Rapids
This area is decorated as a Mediterranean fishing village. It features an impressive show with water, lights, fire and pyrotechnic special effects. It also has a thrilling roller-coaster called Furius Baco.
Polynesia
You'll discover an authentic tropical jungle full of palm trees and lush vegetation and its formidable volcano on the Tutuki Splash barges or enjoy the beautiful traditional dances of this part of the world with a group of French Polynesian dancers.
China
You'll be taken back in time to ancient colonial China. This part of PortAventura features the best two roller-coasters in the park, the Dragón Khan and Sambhala.
Mexico
This area is decorated with temples and sculptures to represent colonial Mexico. It offers great rides like the Hurakan Condor or El Diablo. El Diablo (Tren de la Mina) is an original attraction that will take you through an old silver mine at top speed on a wooden carriage. If you get hungry, you'll be able to enjoy delicious Mexican food and enjoy Mariachis singing traditional Ranchera songs.   
Far West
Set in a Wild West town full of exciting rides, you'll get to go on Stampida, an original wooden roller coaster or steer Wild Buffalos and then descend a huge waterfall on a log. Far West includes delicious authentic American restaurants where you can order exquisite hamburgers, hot dogs or a steak.
SésamoAventura 
The SésamoAventura is a space designed for younger children, where families will be able to spend time with their favorite Muppets including Big Bird and Elmo. 
Prices (online)
Type of ticket
Adults
Children*
Seniors over 60
Reduced mobility**
1 Day
45€
39€
39€
23€
2 Days
50€
44€
44€
28€
Three days (1 or 2 parks)
79€
64€
64€
40€
*Children (aged between 4 and 10). Children that are less than 4 years old: free.
**People with 33% or more reduced mobility.
An amusement park for everyone
This theme and leisure park is ideal to go with your family, your companion or friends. It includes an amazing variety of original attractions, it is beautifully decorated and offers authentic shows from various parts of the world. 
Getting to PortAventura
Book a tour: It includes transport and an entrance ticket. 
Car: The easiest way to get to PortAventura is by renting a car in Barcelona.
Train: You can take a train to Vila-Seca or Salou and then take a taxi from there to PortAvenura.
Transfer service: You can book a transfer service from Barcelona's city center on PortAventura's official website.
Official website
You can find more information and the Park's latest news in the official PortAventura World website:
Location
Between Vilaseca and Salou, approximately 100 km from Barcelona.
When to visit
It depends on the time of year. Check out the official PortAventura World website for more information.
Map
Hotels nearby
Click here to view all hotels cerca de PortAventura World