Mirador de Colom (Columbus Monument)
The Mirador de Colom, also known as the Columbus Monument, is an impressive pillar dedicated to the explorer Christopher Columbus in Barcelona with an observation deck at the top. It stands 197 Ft (60 m) tall and sits at the end of La Rambla, very close to the city's port.
The structure consists of an enormous Corinthian style column on which stands a statue of Columbus. At the bottom part of the pillar are various sculptures related to the discovery of America accompanied by eight iron lions. These are normally sat on by the tourists.  
History
In 1881, the city of Barcelona decided to commemorate Christopher Columbus, since the explorer had chosen the port of Barcelona to disembark after his voyage to the Americas. The monument was inaugurated in 1888 coinciding with the 1888 Barcelona Universal Exposition.  
Beautiful monument but dreadful viewpoint
The Mirador de Colom is an impressive monument, but the views from its observation deck leave a lot to be desired. The top part is very small and visitors are squeezed into a miniscule space with small glass windows from which it is difficult to see, making it quite disappointing.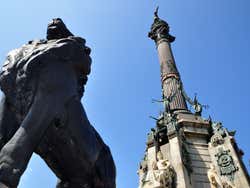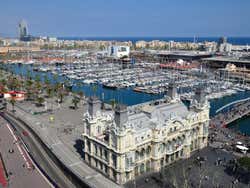 Schedule
Every day: from 8:30 am – 2:30 pm.
Price
Adults: € 6 (US$ 6.40)
Children (between 4 and 12 years old): € 4 (US$ 4.30)
Children (less than 4 years old): free entry.