Museu Frederic Marès in Barcelona
The Museu Frederic Marès is a museum in Barcelona that features the private collections donated by Frederic Marès, a twentieth century Spanish Catalan sculptor and renowned collector.
The Museum is housed in part of the Palau Reial Major, a complex of historic buildings in the Gothic Quarter. 
When it was first inaugurated in 1946, the Museum was only made up of four halls, but it was expanded due to Marès' love of art.
Exhibitions
Frederic Marès Museum is extensive with numerous collections. The sculpture collection, which includes several pieces by Marès, is divided into various halls depending on when they were created: Antiquity, Romanesque, Gothic, Renaissance, Baroque and lastly, nineteenth century. You'll find the amount of religious sculptures surprising.
The top floors of the Museum have thousands of everyday nineteen century objects, including photographs, clocks, pipes, combs and fans.
Colossal collections
The Museu Frederic Marès is rather curious. The Museum's collections are vast and it is difficult to find such a large collection of pipes, fans and other interesting objects.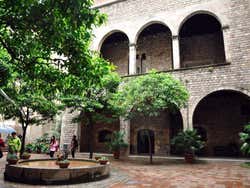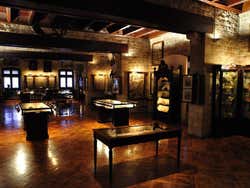 Schedule
Tuesday – Saturday: 10 am – 7 pm.
Sundays and Public holidays: 11 am – 8 pm.
Monday: closed
Price
Adults: € 4.20 (US$ 4.50)
Youth (aged between 16 and 29) and Seniors (aged 65 or above): € 2.40 (US$ 2.60)
Children (less than 16 years old): free entrance.
Barcelona Card: free entrance.
First Sunday of every month and Sundays from 3 pm: free entrance