Flowers, music, live shows, mimes and terraces full of life define Las Ramblas, the most well-known street in Barcelona and a definite must. 
La Rambla, also known as Las Ramblas, is one of Barcelona's main thoroughfares and one of the most visited areas in the city. This fascinating artery is 0.8 miles (1,3 km) long and connects Plaça de Catalunya with the city's old port.
Las Ramblas is always lively, packed with tourists, locals and street artists who pose like living statues. Numerous terraces and restaurants are located on both sides of the street and it is very enjoyable to sit in one of its terraces to see people come and go, although be warned that the prices are a little high, since this is a very touristic area.
Parts of La Rambla
La Rambla is divided into a succession of shorter streets and this is why it is sometimes called Las Ramblas in plural. Here is a list with the several "Ramblas", starting from Plaça Catalunya:
Rambla de Canaletes: Located in the highest part of Las Ramblas, next to Plaça de Catalunya, this street is always crowded and bustling.
Rambla dels Estudis: It is called "Street of the Studies" after the former Jesuit University that used to exist on this site.  It is also know as La Rambla de los Pájaros (Bird's street) since an old Bird's Market used to be located in this area. 
Rambla de Sant Josep: The most colourful and scented part of La Rambla is full of flower and plant shops that brighten even the greyest of days. In this area is the Boquería Market.
Rambla dels Caputxins: Also called Rambla del Centro, this street houses numerous landmarks like the Palau Güell, the Gran Teatre del Liceu and the nearby Plaça Reial.
Rambla de Santa Mònica: The Rambla de Santa Mònica is a lively area packed with bars and restaurants. At the end of the boulevard, just before getting to the seafront, you'll come across the Mirador de Colom (Columbus Monument).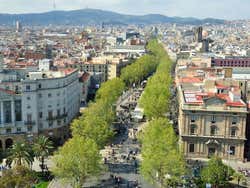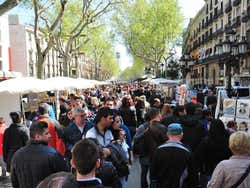 Transport
Metro: Liceu, Drassanes or Catalunya, line 3.