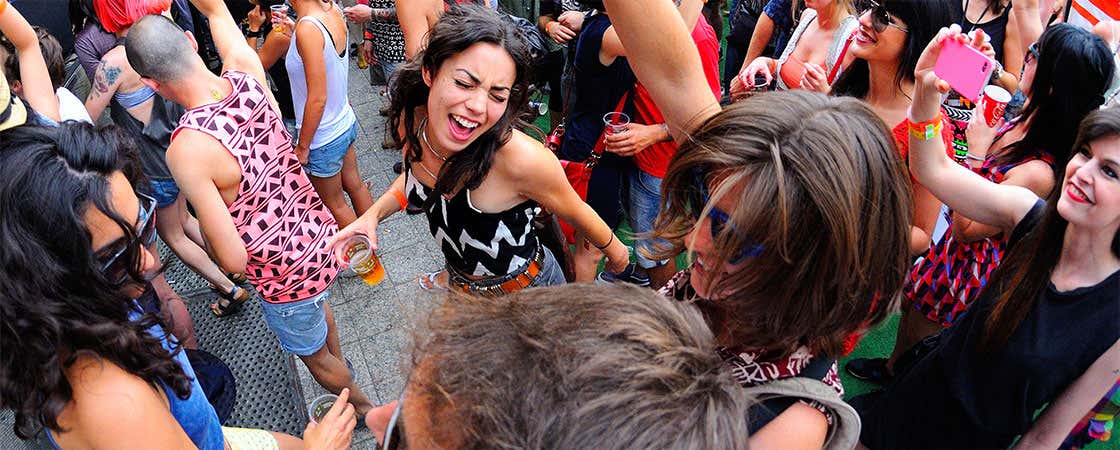 Nightlife in Spain is one of the best in the world and Barcelona, as well as Madrid, offer some of the country's most impressive nightclubs. The city's numerous neighborhoods are packed with bars, pubs, terraces, and renowned clubs.
Areas to go out at night
Although Barcelona is a very lively city and you'll find bars and clubs in almost every neighborhood, there are certain areas that you shouldn't miss when heading out for a party:
Eixample: It is the largest district in Barcelona, located in the heart of the city. It houses some of Barcelona's most famous streets and squares, like the Passeig de Gràcia, Rambla de Catalunya, Plaça de Catalunya, and Gran Via de les Corts Catalanes. It has numerous good tapa restaurants and trendy bars. It's the ideal place to head to if you're looking for a chilled night with good food and drinks.
María Cubí and Santaló: These two streets are in the "Zona Alta" of Barcelona. They are famous for their pubs and bars, many of which also have a dance floor. We recommend heading to María Cubí and Santaló if you want to dance or just have a drink. Both avenues are very popular among locals and foreigners.
Zona Alta (Aribau): The "Zona Alta" is very close to the Passeig de Gràcia. One of its most famous streets is called Aribau, which is very narrow. The "Zona Alta" is considered Barcelona's most privileged residential area and an exclusive part to go out. In this area, you'll find excellent restaurants, clubs, and bars.
Passeig Marítim de La Barceloneta and Villa Olímpica: This is one of the most popular and liveliest areas in the city. The clubs in this part of Barcelona have open terraces on the beachfront and are the place to be during the warmest months of the year.  
Nightclubs in Barcelona
We have made a list of our favorite discos in Barcelona for their music and ambiance:
Opium Barcelona (Passeig Marítim de la Barceloneta, 34): Opium Barcelona is the most famous club in the area and one of the best in the city. It has a terrace on the beachfront and is especially popular among tourists and international people living in Barcelona. It opens every day of the week.
Shoko (Passeig Marítim de la Barceloneta, 36): Decorated with the principles of Feng Shui, Shoko is a restaurant/lounge with a terrace that becomes a club from midnight onwards. It's open every day of the week and it's usually packed with young people.
Bling Bling (Carrer Tuset, 10): It is one of the best clubs in the "Zona Alta" in Barcelona. It's a favorite for both locals and international people. It's extremely chic and elegant and usually, the public is a little older. It's also very select, so you'll have to dress well to get in. It's open from Thursday to Saturday.
Teatre Principal (La Rambla, 27): The Teatre Principal is the oldest theatre in Barcelona. It sits in the heart of the city and was recently transformed into a club. Its international Electro House DJs are notorious.
Free access to clubs in Barcelona
If you don't want to queue for a long time and pay for entrance to the best clubs in Barcelona, check out the Barcelona Night Card for free access to the most exclusive nightclubs in the city.