Centre de Cultura Contemporània de Barcelona
The Centre de Cultura Contemporània (CCCB) is one of the most popular cultural and exhibition centers in Barcelona. 
It is housed in the former Casa de Caritat (Almshouse) that was remodelled in 1991.  Three years later, in 1994, the CCCB was opened to the public.  
The Centre de Cultura Contemporània de Barcelona organizes exhibitions, debates, festivals, concerts, film cycles and many other types of activities throughout the year.
The exhibitions
The building has over 161,458 ft² (15,000 m²) of which only 43,055 ft² (4,000 m²) are used for exhibitions. The rest of the complex houses an auditorium and multi-use rooms.
The temporary exhibits programme includes visual arts, literature, philosophy, film, music or anything related to contemporary culture and society.  
Look up its temporary exhibitions
If you want to visit the CCCB, note that it doesn't have any permanent exhibitions, so we suggest checking out its official website to see what temporary exhibitions are on when you visit Barcelona. Although the Centre de Cultura Contemporània is very interesting, we would recommend visiting it only once you have seen the city's other major museums.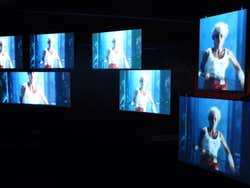 Schedule
Tuesday – Sunday: 11 am – 8 pm.
Monday: closed.
 
Price
Adults: € 6 (US$ 6.40)
Youth (less than 25 years old) and Seniors: € 4 (US$ 4.30)
Children (less than 12 years old): free entry.
Articket: free entry
Transport
Metro Catalunya and Universitat, lines 1, 2 and 3.
Buses: 7, 13, 14, 16, 17, 20, 24, 37, 41, 42, 50, 54, 55, 58, 59, 62, 63, 64, 66, 67, 68, 91, 120, 121, 141, H12, H16, L94, L95, V15, V17, Aerobús.