Barcelona's Plaça d'Espanya (Spain's Square) was constructed for the 1929 International Exhibition. It is one of the largest and most important squares in Barna, as the city is colloquially called.
Barcelona's Plaça d'Espanya is located at the feet of Mount Montjuïc. The square measures 34,000 square meters, which makes it not only one of the city's greatest squares, but also one of the largest in the country.     
Things to do in Plaça d'Espanya
Las Arenas Shopping Mall: Set in Barcelona's old Neomudejar-styled bullring, Las Arenas shopping center offers excellent views over the square and surrounding streets from its highest terrace.
Venetian Towers: Two striking towers are located on either side of Avinguda de la Reina Maria Cristina that leads to Plaça d'Espanya. The two towers are inspired by the Campaniles in Venice and that is why they are called the Venetian Towers.
Fountain: In the centre of the square is an iconic symbol of Barcelona, a large monumental fountain, which is designed in a classical style and represents a poetic allegory to Spain.
Magic Fountain of Montjuïc: Between the Plaça d'Espanya and the Museu Nacional d'Art de Catalunya is Barcelona's most famous fountain. It was designed for the 1929 International Exhibition and offers a display of music, lights and water acrobatics on certain nights that is worth seeing.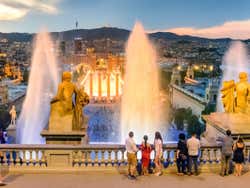 Transport
Metro: Espanya, lines 1 and 3.