Fundació Antoni Tàpies in Barcelona
The Fundació Antoni Tàpies is a museum and cultural center created to promote the study and the dissemination of contemporary and modern art. It was founded in 1984 by Antoni Tàpies, a Spanish painter and sculptor.
The building
The Fundació Antoni Tàpies is located in a striking Modernist building with a peculiar red brick and iron façade. The structure was designed by Lluís Domènech i Montaner, a renowned Spanish Catalan architect, and was built between 1881 and 1885 to house the old headquarters of the Montaner y Simón Publishing House. There is a distinctive artwork by Tàpies called "Clouds and Chairs" on the top of the Foundation.
Exhibitions
During most of the year the Fundació Antoni Tàpies exhibits a small part of the most representative works of Tàpies' collection and during the rest of the year, the museum combines the artist's most famous paintings and sculptures with other temporary exhibitions by other artists.
One of the most particular works of art in the museum is called "Sock". It is located on the building's terrace. As its name suggests, the artwork is an enormous sock that measures 9 Ft (2.75 m). When Tàpies first proposed his work, it divided the population of Barcelona, as some believed the work of art to be ludicrous and others defended the artist's creativity.
Too peculiar
The exhibitions in the Fundació Antoni Tàpies are extremely peculiar. Depending on your taste in art, you can either find it curious and interesting, or not at all.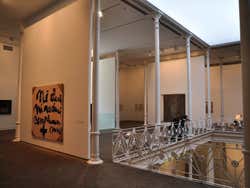 Schedule
Tuesdays to Saturdays: 10 am – 7 pm
Sundays: 10 am - 3 pm
Mondays: closed
 
Price
Adults: € 8 (US$ 8.60)
Students and Seniors (aged 65 and over): € 6.40 (US$ 6.90)
Children (aged less than 16 years old): free entry.
Articket: free entry.
Transport
Metro: Passeig de Gràcia, lines 2, 3 and 4
Buses: 7, 22, 24, 39, 47, 63, 67, B24, H10, V15, and V17