Monastery of Pedralbes, Barcelona
Founded in 1327 to house nuns of the Order of Saint Clare, the Monestir de Pedralbes (Monastery of Pedralbes) is an excellent example of Catalan Gothic-style.
The Monastery of Pedralbes was established in 1327 by Elisenda de Montcada, wife of King James II of Aragon to house the Order of nuns called the Poor Clares. The monastery's church and cloister are considered to be one of the best illustrations of Catalan Gothic architecture.
Discovering the Monastery
The Monastery is exceptionally well kept and maintains various elements that reflect how the nuns lived in this complex for many years:
Some of the Monastery's most noteworthy areas:
Cloister: The Monastery's cloister is one of the largest in its architectural style and is very harmonious. Walking around the cloister is extremely enjoyable due to its lush green vegetation.
Cells: All around the cloister are small rooms where the nuns would retire for personal recollection.
Dormitory: The former dormitory contains a small collection of artwork, furniture and liturgical elements that were collected by the nuns for over seven centuries.
Church: The Monastery's remarkable church consists of one single nave that is presided over by a Gothic retablo. Apart from the tableau, the temple is quite bare, with a large rose window.
St Michael's Chapel: St Michael's Chapel is one of the most striking parts of the Monastery. It is covered by paintings that date back to 1346.
Interesting and worth visiting
The Monastery of Pedralbes is an impressive landmark that will transport its visitors to the past while they discover the numerous rooms where the nuns would go by their daily lives.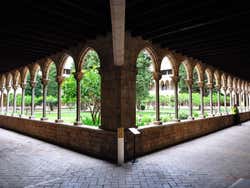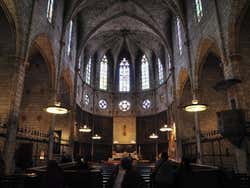 Schedule
1 April – 30 September
Tuesday – Friday: 10 am – 5 pm.
Saturdays: 10 am - 7 pm.
Sundays: 10 am – 8 pm.
1 October - 31 March
Tuesday – Friday: 10 am – 2 pm.
Saturdays and Sundays: 10 am – 5 pm.
Price
Adults: € 5 (US$ 5.40)
Reduced entry: € 3.50 (US$ 3.80)
Free entrance with Barcelona Card and for children under 17.
Sundays from 3 pm onwards: free entry.
Transport
Metro: Reina Elisenda, line 6.
Buses: 22, 63, 64, 75 and 78.