Museu d'Història de Barcelona MUHBA
The Museum of the History of Barcelona is formed by Medieval buildings and fascinating remains which permit you to discover the history of Barcelona from its foundation as a Roman town up until the Medieval period. 
Located in the Plaça del Rei, the Museu d'Història de Barcelona MUHBA (Barcelona City History Museum) consists of an ensemble of Medieval buildings and interesting ruins that allow visitors to get to know the city from its foundation by the Romans during the first century B.C. up until the Middle Ages.
A walk through the city's history
The first part of the museum includes a reconstruction of Barcino, Roman Barcelona. Then, visitors take an elevator to the city's ruins, taking them back to the year 12 BC.
In the site, visitors will walk through one of the Roman streets of Barcino, discovering a neighborhood full of warehouses where the citizens washed and dyed their clothes, a factory where they would dry and salt fish, a winery and a chapel.
After discovering the Roman heritage sites, various exhibitions explain how Medieval Barcelona was and how it became the capital of the Empire. At the end of the visit, visitors will get to see the Chapel of Santa Àgata and one of the palace's halls.
A unique museum
The Barcelona City History Museum is very interesting. It offers a unique vision of how the city of Barcelona has developed since its foundation to the Medieval times thanks to the heritage spaces at the monumental site of Plaça del Rei.
If you decide to visit the excavations it is important that you take into account that you will need a lot of imagination to be taken back in time.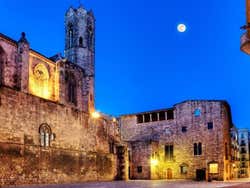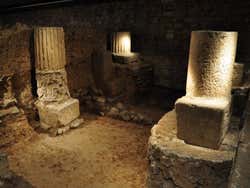 Schedule
Tuesday – Saturday: 10 am – 7 pm.
Sundays: 10 am – 8 pm.
Mondays: closed
Price
Adults: € 5 (US$ 5.40)
Youth (aged less than 25) and Seniors (65 years old and over): € 5 (US$ 5.40)
Children (less than 16 years old): free entry.
Free entrance with the Barcelona Card.
Combined entrance to all the MUHBA centers
Sundays from 3 pm, and all day the first Sunday of every month: free entrance
Transport
Metro: Catalunya, lines 1 and 3; Urquinaona, lines 1 and 4; Liceu, line 3; Jaume I, line 4
Buses: lines 47, V15, and V17