Opened in 1847, the Gran Teatre del Liceu, most commonly known as "El Liceu", is the oldest and most well-regarded Opera House in Barcelona.
Throughout the years, it has remained open as a cultural and artistic centre and has become one of the city's iconic symbols.
Over the past 150 years, the most prestigious operas have been put on in the Gran Teatre del Liceu with the most renowned and talented singers.
A Strenuous Trajectory
Throughout its history, the building has suffered numerous setbacks. In 1861, the Opera House was severely damaged by a fire and was rebuilt the following year. In 1893, an anarchist threw two bombs into the stalls of the Opera House killing 20 people. In 1936, the theatre was nationalized and in 1994, the building's auditorium was devastated by a fire. Shortly afterwards, it was renovated and improved, but maintaining its original decoration and style.
Tour of the Opera House
Every day, the Gran Teatre del Liceu organizes tours of the Opera House, where an English-speaking guide will take the visitors to the Theatre Vestibule, the Auditorium, the Hall of Mirrors and the Foyer, while explaining the main events that have taken place in this surprising theatre.
You can choose whether you prefer to book a 45-minute tour or a quicker tour of 30 minutes. Both tours are with English-speaking guides.
A Splendid Theatre
You can take a guided tour, or the other perfect way to discover this impressive opera house is to go to one of its many performances. You can check what's on in the official Gran Teatre del Liceu website. In our opinion, the Palau de la Música Catalana is a lot more interesting to visit than the Gran Teatre del Liceu.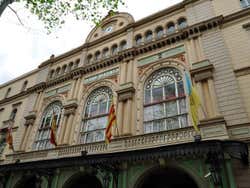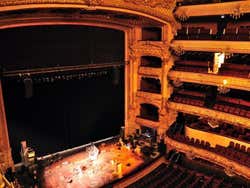 Schedule
45-minute tour:
Monday - Friday: at every hour from 2 pm - 6pm.
Saturday and Sunday: at every hour from 9:30 am.

30-minute tour: Every day at 1:30 pm.
Price
Guided Tour:
Adults: € 16 (US$ 17.40)
Students and Retirees: € 12 (US$ 13.10)
Children under 7: Free.
Quick Tour (30 minutes):
Adults: € 6 (US$ 6.50)
Students and Retirees: € 5 (US$ 5.40)
Children under 7: Free.
Transport
Metro: Liceu, line 3.
Buses: V13 and 59.