Museu del Modernisme de Barcelona
The Museu del Modernisme de Barcelona is one of the best museums of the city if you enjoy modernism or would like to learn about this artistic movement. 
Housed in an old Modernist factory in the Eixample neighborhood of Barcelona, the Museu del Modernisme (Modernism Museum), which used to be called the Museu del Modernisme Barcelona – MMBCN, brings together various artistic elements to create the only museum that is dedicated to Catalan Modernism.
Exhibitions
The Modernism Museum is housed in a building that measures 10,763 ft² (1,000 m²) and its collections include paintings, sculptures, furniture and decorations designed by the most famous Modernist Catalan artists.
Not the most interesting Modernist Museum in Barcelona
The Museu del Modernisme de Barcelona features interesting objects and is very enjoyable to visit, but we believe that the city has other more interesting options if you are interested in Modernism.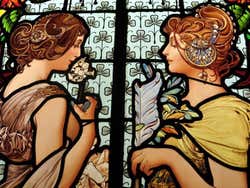 Schedule
Monday to Friday: 10:30am - 2pm and from 4pm – 7pm.
Saturdays and Sundays: closed
1, 6 January, 1 May, 25, 26 December: closed
Price
Adults: € 10 (US$ 10.70)
Seniors (aged 65 and over): € 7 (US$ 7.50)
Youth (under 25 years old): € 7 (US$ 7.50)
Children (between 6 and 16 years old): € 5 (US$ 5.40)
Children under 6 years old: free entrance.
Free entrance with the Barcelona Card. 
Transport
Metro: Passeig de Gràcia, lines 2, 3 and 4; Universitat, lines 1 and 2.
Buses: 7, 16, 17, 63, 67 and 68.