The Blau Museum is the most modern brand of the Natural Science Museums in Barcelona. It is a great place to visit with children. 
Located in the Forum Park in Barcelona, the Museu Blau (Blau Museum) is part of the Natural Science Museum. It is housed in a vast and very modern structure measuring 96,875 ft² (9,000 m²). The Blau Museum is a center for the study and dissemination of the environmental issues that our world is facing today.
Although the Museu Blau opened not very long ago, in 2011, it features a very complete and extensive collection with over three million items, all of which are very relevant and interesting. The objects were collected by the Museu de Cièncias Naturals de Barcelona for over 130 years.
Exhibitions
The visit to the Museu Blau begins with some images that reproduce the Big Bang theory and demonstrate how the continents were formed. Visitors will then walk down the time tunnel to discover the history of the planet Earth since the first living beings appeared.
The most interesting part of the Museum, in our opinion, is the exhibition on the Earth nowadays. This area includes over 4,500 items including stuffed animals, fossils, plants, rocks and minerals.
A great museum for children
We highly recommend the Blau Museum if you are visiting Barcelona with children, since it is a very interactive museum, or if you are a fan of Natural Science, otherwise we recommend you visit other museums first.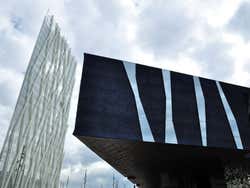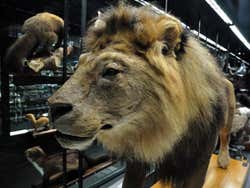 Schedule
October – February
Tuesday – Friday: 10 am – 6 pm.
Saturday: 10 am – 7 pm.
Sunday and public holidays: 10 am – 8 pm.
Monday: closed
March – September
Tuesday – Saturday: 10 am – 7 pm.
Sunday and public holiday: 10 am – 8 pm.
Monday: closed
Price
Adults: €6
Youth (between 16 and 29 years old) and Seniors (aged 65 and above): €2.70
Children (less than 16 years old): free entry.
Free entry with the Barcelona Card.
First Sunday of every month and all Sundays from 3pm onwards: free entrance. 
Transport
Metro: El Maresme-Fórum, line 4.
Buses: 43, 41, 7, 141, 36 and 99.