Basílica Santa Maria del Mar in Barcelona
Santa María del Mar is a remarkable Basilica constructed between 1329 and 1383. It is considered to be the best example of Catalan Gothic architecture.
The construction of the temple began in 1329 by a group of believers that lived in the Port of Barcelona and its surrounding, as well as the Ribera. They financed the structure and also physically worked on the temple. For instance, all the guilds of the Ribera carried large stones to the construction site to build the temple.
Inside
The monumental Basilica has an extraordinarily high ceiling supported by slender pillars and the walls are made of large slabs of bare stone that seem to soar endlessly.  
Santa María del Mar's interior has darkened walls which add a bit of mystery and interest to this classic Gothic temple. The black walls are a result of a fire started by Anarchists and Communists in 1936.
A Beautiful Basilica
Santa María del Mar is a charming and stark Basilica. It is one of the most popular tourist destinations in Barcelona, partly because it is beautifully portrayed in "Cathedral of the Sea", a novel written by the Spanish author, Ildefonso Falcones.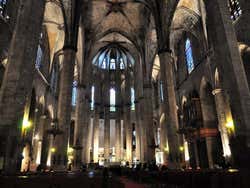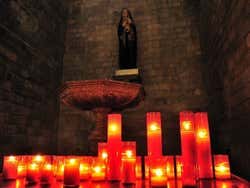 Schedule
Every day from 10 am to 8:30 pm