Palau de la Música Catalana in Barcelona
Barcelona's Palau de la Música Catalana is one of the most striking concert halls in the world. Built between 1905 and 1908 for the Orfeó Català (a Catalan choral society), it is currently one of the most representative Catalan Modernist buildings in Catalonia's capital city.  
The Palau de la Música Catalana concert hall has magnificent acoustics, which is why many famous artists choose to sing there and why it's held in such high esteem.
Inside the Palau de la Música Catalana
The building's guided tour begins with a presentation of its history and the essential role it has always played in Barcelona.
Once this little intro finishes, visitors are taken to the concert hall. This auditorium is naturally lit during the day thanks to its stained-glass panes and its enormous stained-glass skylight. The hall is beautifully decorated and spectators are immediately immersed in this magical space upon entry.
The hall and the stage of the Palau are both surrounded by sculptures, busts, and reliefs that make this such a  remarkable space and create an ideal atmosphere for the music performed here.
The tour then continues in the Lluís Millet hall which is a gathering place for concert-goers a striking Modernist hall with a small terrace with peculiar columns covered in mosaics.
A Unique Concert Hall
The Palau de la Música Catalana was declared a UNESCO World Heritage Site in 1997. The concert hall is an architectural jewel. Its exterior is as surprising and unique as its interior, with one of the most beautiful auditoriums in the world.
If you have enough time, we recommend booking the guided tour. If you're in Barcelona for just a few days, we suggest at least walking past the Palau to get a view of its magnificent exterior.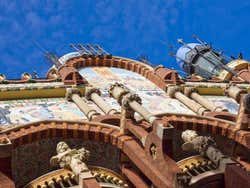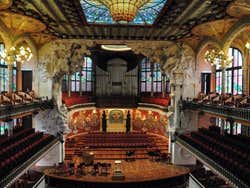 Schedule
Every day: 9 am – 3:30 pm