Fundació Joan Miró in Barcelona
The Fundació Joan Miró (Joan Miró Foundation) was set up as a reference centre for Miró's work and so the general public could learn about Modern art. It is currently the third most-visited museum in Barcelona. 
The Fundació Joan Miró (Joan Miró Foundation) was opened in 1975 in Barcelona as a reference center of Joan Miró's work. The renowned Spanish artist created this foundation with works from his own private collection to promote the study and dissemination of Modern Art in all its facets. The Foundation was created after his first major exhibition in Barcelona in 1968.
Exhibitions
Nowadays, the Foundation's collection includes over 14,000 artworks, contains paintings, sculptures, textile, ceramic and drawings.
The museum not only houses works by Joan Miró, but also includes paintings by Marguerite and Aimé Maeght, Pierre Matisse, Manuel de Muga, Josep LLuís Sert, Francesc Farreras, Josep Royo, Gérald Cramer and David Fernández Miró, Miró's grandson.
For Miró's fans
The Fundació Joan Miró is dedicated to the Spanish painter's work; therefore, it depends whether you like his art or you like Surrealism, Cubism or Expressionism to decide whether to include this museum in your visit to Barcelona or not.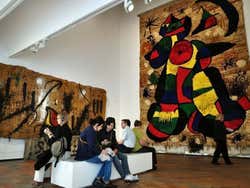 Schedule
Mondays: closed
November - March
Tuesday to Saturday: 10 am – 6 pm.
Sundays: 10 am to 3 pm
April - October
Tuesday to Saturday: 10 am – 8 pm.
Sundays: 10 am – 6 pm.
Price
Adults: € 12 (US$ 13.60)
Students and Seniors (65 years old and over): € 7 (US$ 7.90)
Children (under 15 years old): free entrance.
Articket: free entrance.
Transport
Funicular from the metro station Paral-lel, lines 2 and 3.
Buses: 55 and 150.