Designed for the 1929 Barcelona International Exposition, the Poble Espanyol is a charming outdoors museum, with some of the most beautiful architecture and villages in Spain. 
The Poble Espanyol (Spanish Village) is a charming open-air museum that represents the most authentic and beautiful buildings and monuments of some of Spain's most magnificent villages and towns. It was constructed for the 1929 Barcelona International Exposition.
Designed to mirror an original Spanish village, this 49,000-square-meter museum in the heart of Barcelona features 117 buildings, streets, and squares, all from various regions in the peninsula.
A walk through the village
Wandering along the museum, visitors will come across various types of authentic Spanish architecture that differ according to the region's resources and climate. The Poble Espanyol features palaces, stately homes, religious edifices, squares, and pleasant streets which reveal the country's sometimes unexplored beauty.  
This architectural museum also has over 40 craft workshops in which visitors can witness how many different objects are made and can also purchase them, making great souvenirs for friends and family.
A country at your fingertips
The Poble Espanyol was established in 13 months and it was to be demolished six months after the International Exhibition was over. Its success saved it from being destroyed and currently, 80 years later, it captivates all those that visit this unique museum.
Visiting the "Spanish Village" is an entertaining way to spend a few hours and a great opportunity to get away from the traffic and rush of city life. We definitely recommend discovering this architectural museum.
If you like you can buy your tickets online here.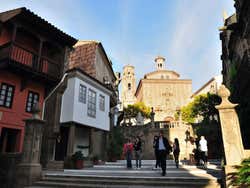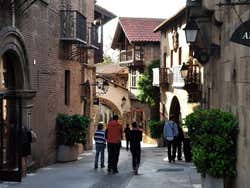 Schedule
Monday: 10 am – 8 pm.
Tuesday - Sunday: 10 am – midnight
Price
Adults: € 14 (

US$

15)
Children 4-12 and seniors over 65: € 10 (

US$

10.70)
Children under 4 years old: free entrance
(Tickets purchased online in advance will have a discounted price)
Poble Espanyol Ticket € 11.20 (US$ 12)