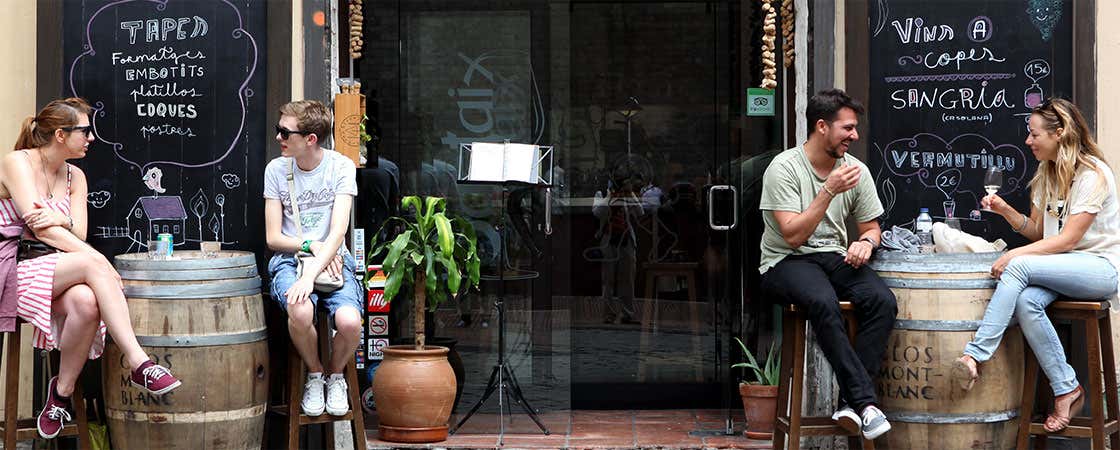 Where to Eat in Barcelona
Catalonia's traditional cuisine is quite varied and rich, based principally on the products found in the region's vegetable gardens. The main ingredients include a variety of vegetables, oily fish and olive oil.
The city sits between the ocean and the mountains, so it has the best from both worlds and with the passing of time, the region's inhabitants have learnt to combine both perfectly. Catalonia also has some excellent wines and cavas (sparkling white wine), which blend sublimely with the various typical dishes.
Typical Catalan dishes
Alioli: sauce made of garlic and olive oil.
Romesco: a tomato based sauce with garlic, bread, hazelnut, peppers, rosemary, olive oil, vinegar, salt and pepper.
Pan tumaca (tomàquet): Slice of bread with fresh tomato rubbed on it with salt and olive oil. Sometimes it has garlic.
Coca de Recapte: Savoury pastry with several types of roasted vegetables like peppers and eggplants. It can also have other toppings like tuna, onion, butifarra, olives, tomatoes or herring.
Butifarra: Type of pork made sausage.
Fuet: Dry cured pork sausage with garlic and black pepper.
Escalivada: Roasted eggplant, peppers, onions and tomatoes.
Samfaina: Fried eggplant and zucchini with a bit of garlic, onion and tomato.
Escudella: Stew with a spiced minceball, chick-peas, potatoes, cabbage and other varieties of meat.
Calçots: A typical vegetable from Catalonia. It's a kind of green onion that it grilled and is served with romesco sauce.
Xató: Salad with curly endive, cod and romesco sauce.
Empedrat: Tomato, cod and bean salad.
Fabes a la catalana: Broad beans with cold cuts.
Suquet: Fish stew.
Fricandó: Veal cooked with plums, onion, tomatoes and pine nuts.
Crema Catalana: Custard with a layer of caramelized sugar (very much like a crème brulee)  
Panellet: Sweet dough made from sugar, egg and almonds.
Neulas: a kind of Catalan biscuit that is round and hollow in the middle.
Best areas to eat in Barcelona
Barcelona offers all types of restaurants from fine dining to fast-food; therefore, you will have no problem finding a place to eat out whether you're on a budget or would like to spend a little more. Some of the best areas to find good establishments include the Gothic Quarter, Boquería Market and Las Ramblas. Port Olímpic also offers excellent restaurants.
Best restaurants with a view in Barcelona
The following list includes some of the most famous restaurants with a panoramic view over Barcelona:
Torre de Altamar: Located at the top of the Torre Sant Sebastià, this restaurant offers typical Catalan dishes and includes beautiful views over the city and its coastline.
Visual: The restaurant Visual is housed on the 23rd floor of the Gran Hotel Torre Catalunya. It is the highest 360° panoramic restaurant in Barcelona.
Dos Cielos: The restaurant Dos Cielos is located on the 24th floor of the hotel ME by Meliá Barcelona. It is an extremely agreeable experience to enjoy its fine cuisine while looking out onto the city.